Stable One UI 5 Watch OS Update Released for Samsung Watches
July 30, 2023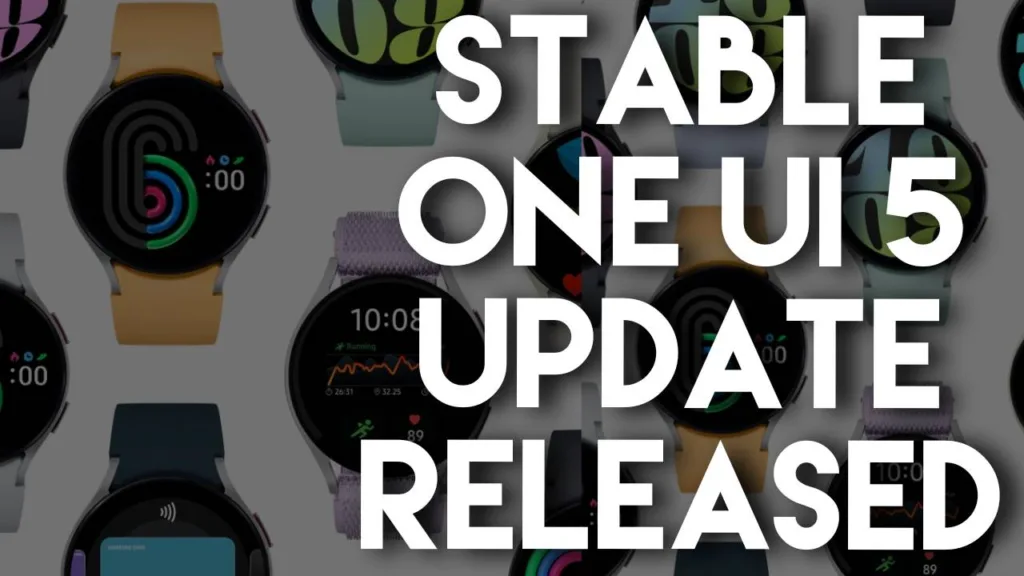 New Stable One UI 5 Watch OS update released for Samsung Galaxy Watch 4 and 5 series. Samsung introduced the "One UI 5 Watch" OS update for the Galaxy Watch 4 and Watch 5 series. This update is based on Android 13 and incorporates Google's Wear OS 4.0.
Best Features of Samsung Galaxy Watch 6 that you should know.
Highly Anticipated Features of Stable One UI 5 Watch OS update.
The primary focus of the Stable One UI 5 Watch OS update revolves around three key features: sleep management, fitness functionalities, and user safety.
Among the highly anticipated features is the Backup and Restore functionality and it is part of firmware integration. Additionally, users can look forward to the new Watch Face Studio, a collaborative effort between Google and Samsung to offer innovative ways of designing Watch Faces.
Stable One UI 5 Watch OS update is based on Android 13, representing a direct leap from Android 11 to 13, skipping version 12. Notably, upcoming updates will also include features from Google Wear OS 4.
The stable over-the-air (OTA) update is currently available in the United States for the Samsung Galaxy Watch 5 and Watch 5 Pro series. The Galaxy Watch 4 will also receive the update outside the United States, including regions like India, UK, EU (Europe), Australia, and Canada, within the next few weeks.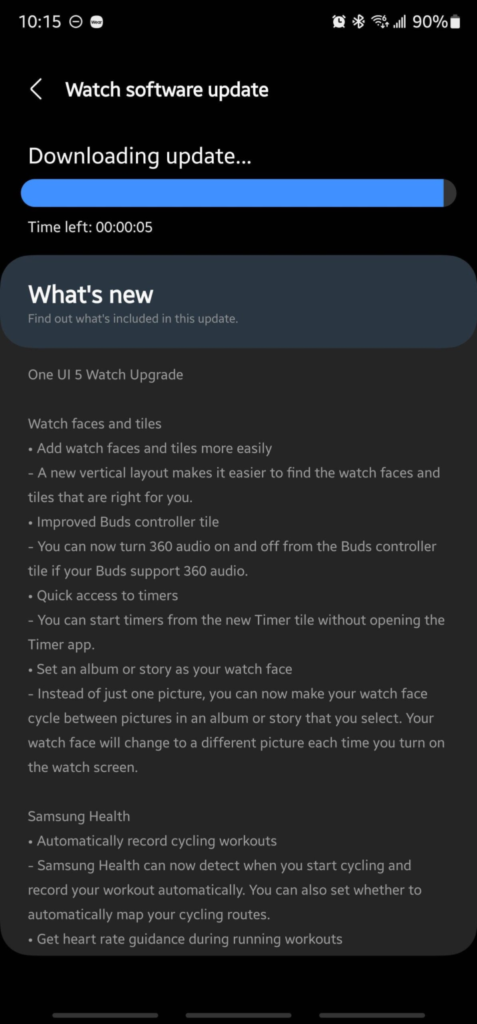 Changes and Added Features of Stable One UI 5 Watch OS Update
Watch Faces and Tiles:
Finding and adding watch faces and tiles is made simpler with a new vertical layout design.
The Bud's controller tile is improved, allowing you to toggle 360 audio on and off if your Buds support this feature.
A new Timer tile lets you quickly start timers without needing to open the Timer app.
You can now set an album or story as your watch face. The ability to cycle through pictures you've selected is also added. The watch face changes to a different picture every time the screen is on.
Samsung Health:
Samsung Health now automatically records cycling workouts, and you can opt to have your cycling routes mapped automatically.
While running, your watch can provide personalized heart rate zones to help you manage your exercise intensity.
Backup and Restore:
Periodically the watch backs up the data when connected to the phone. You can also save backups to Samsung Cloud using the Smart Switch app.
Control Your Phone:
More call controls are available on the watch, allowing you to adjust call volume, mute sound, and use the keypad remotely.
You can dictate text using the Home button, which quickly switches to voice input when using Samsung Keyboard.
You can set up to 20 timers simultaneously to help manage various tasks.
An emergency medical information button appears when the watch detects a hard fall or when you press the Home button five times to activate Emergency SOS.
Device care lets you check the status of battery, storage, and memory to extend battery life and maintain smooth operation.
Universal gestures enable you to control the watch without touching the screen, allowing various actions through wrist movements or hand gestures.
Organize your apps in folders to find them quickly and reduce scrolling.
Software Update Information:
Size: 1.7 GB
Security patch level: July 1, 2023
How to Download the Stable One UI 5 Watch OS Update.
To download the stable version of One UI Watch 5 on Galaxy Watch 4, Watch 5, and Watch 5 Pro:
Connect your watch to your phone via Bluetooth.
Turn on the WiFi on your watch and connect to a WiFi network.
Launch the Galaxy Wearable app on your phone.
Go to Watch Settings> Watch software update and download OTA updates.
Alternatively, on your watch:
Turn on the WiFi on your watch and connect to a WiFi network for faster downloads.
Visit settings > system updates > download OTA updates to check for any updates.
Note: The One UI Watch 5.0 firmware update is available for download on Galaxy Watch 4 (Bluetooth) (LTE) (Classic), Galaxy Watch 5, and Galaxy Watch 5 Pro via the stable channel.