How to install Samsung Pay on your Samsung Galaxy Watch 4
September 16, 2023
How to install Samsung Pay on your Samsung Galaxy Watch 4 in India. Samsung Pay, created by Samsung Electronics, is a mobile payment and digital wallet service that empowers users to make payments using their Samsung smartphones and other compatible Samsung devices.
How to take backup and reset your Samsung Galaxy Watch 4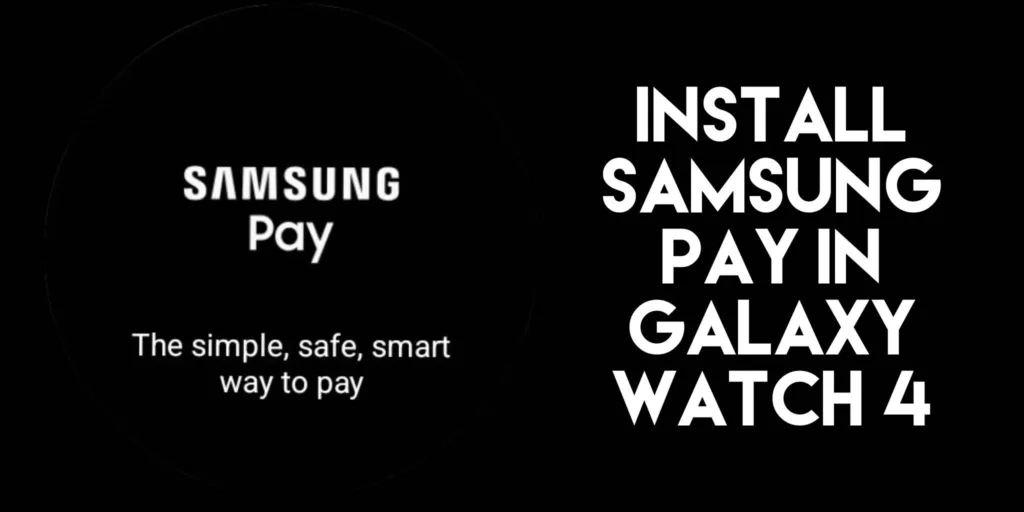 How to Activate this Feature
So, now you can install Samsung Pay on your Samsung Galaxy Watch 4 after the One UI 5 update and this is how to activate it.
You may need to initiate Samsung Pay through the Galaxy Wearable app before it becomes accessible on your watch. This step installs the necessary plug-in on your watch.
From any screen on your watch, press and hold the Back button for 1–2 seconds. If this is your first time using Samsung Pay, it may take a moment to initialize.
Once Samsung Pay is open, swipe left to view the basic instructions. Then, tap the arrow to start configuring Samsung Pay.
If you see the message "Start using Samsung Pay" on your Samsung Galaxy Watch, tap OK to open Samsung Pay on your phone. Then, tap Start. If prompted, sign in to your Samsung account. Note that this step can be skipped on certain models.
On your watch, tap More options (indicated by three dots), and then select + Add card to add a payment card to Samsung Pay. On the Galaxy Watch4 and Galaxy Watch5 series, swipe left and tap + Add card.
If you haven't set a lock screen, you'll be prompted to do so. Follow the on-screen instructions to create a four-digit PIN and confirm it.
From this point, you can begin adding payment cards or importing them through your phone.
Now, whenever you need quick access to Samsung Pay, simply press and hold the Back or Home button on your watch, depending on your model. Your card(s) will appear, and you can proceed to make a payment.
How Samsung Pay Works
Samsung Pay on the Galaxy Watch uses Near Field Communication (NFC) to make contactless payments possible. When you place your watch near a point-of-sale (POS) terminal that supports NFC, the NFC module on your watch communicates with the payment terminal and finalizes the transaction.
Best Features of Samsung Pay
Adding Payment Methods: With Samsung Pay, individuals can include a range of payment methods, such as credit cards, debit cards, loyalty cards, and even gift cards. The service boasts compatibility with a wide array of banks and financial institutions.
Robust Security Measures: Samsung Pay places a strong emphasis on safeguarding users' payment details. This involves employing multiple layers of security, such as fingerprint recognition, iris scanning, facial recognition, or a personal PIN, to authenticate transactions.
Flexible Payment Options: Samsung Pay users have the flexibility to execute payments at different points of sale. This encompasses contactless payment terminals equipped with NFC (Near Field Communication) technology and even older magnetic stripe card readers. Samsung Pay is unique in its support for both MST (Magnetic Secure Transmission) and NFC technologies, enhancing its compatibility with a broader spectrum of payment terminals compared to some competing mobile payment services.
Digital Storage for Cards: Beyond facilitating payments, Samsung Pay permits users to digitally store and utilize gift cards, membership cards, and rewards cards. This eliminates the need to carry physical cards, streamlining the payment process.
Samsung Rewards: As an added bonus, Samsung Pay frequently provides users with rewards and promotions for using the service. These incentives may encompass cashback offers and discounts at participating retailers.
Global Accessibility: Samsung Pay is accessible in numerous countries worldwide, and its adaptability to various payment terminals renders it a versatile choice for mobile payments.
Install Samsung Pay in unsupported Regions on your Samsung Galaxy Watch 4