How to take backup and reset your Samsung Galaxy Watch 4
August 20, 2023
How to take backup and reset your Samsung Galaxy Watch 4. One of the standout features of Samsung smartwatches has been the ability to take backup and subsequent restore in case of unforeseen circumstances. This feature is particularly advantageous as it facilitates the restoration of your settings even if scenarios such as watch malfunction, phone replacement, or watch loss arise. Thus, knowing how to create a backup for your Galaxy Watch 4 is essential to safeguard your cherished smartwatch.
Best Features of Samsung Galaxy Watch 6 that you should know.
How to Backup your Samsung Galaxy Watch 4

Samsung has simplified the backup process, allowing you to initiate it either from your watch or your smartphone. We will show the steps to initiate the procedure from your watch, which will then guide you through the final steps on your smartphone. Let's begin.
Open the settings on your Galaxy Watch 4 by swiping down on the watch display and tapping the gear icon (⚙️).
Scroll down and tap on "Account and backup."
Select "Back up data."
Confirm that the correct Samsung account is displayed. If so, tap "Show on phone."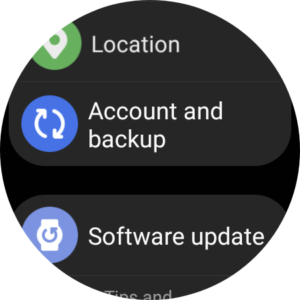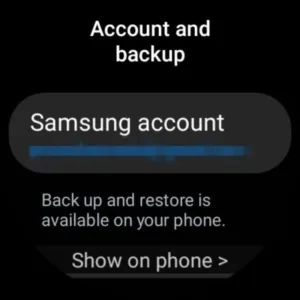 After initiating the process, let's transition to your smartphone. You should now be within the Galaxy Wearable app on your phone, where you'll find "Account and backup" displayed at the top of your screen. If this is the case, proceed to step 4. However, if you're not seeing this, it's possible that the transition from your watch to your phone encountered a minor issue. No need to worry, simply begin from step 1 below, and we'll have your backup process up and running smoothly in no time.
Launch the Galaxy Wearable app on your smartphone.
Tap on "Watch settings."
Scroll down and choose "Account and backup."
Confirm that your Samsung account details are accurate. If they are, tap on "Back up data."
Select the specific options you wish to include in the backup, then tap "Start."
How to Perform a Factory Reset
As previously mentioned, ensuring you have a backup of your data is a prudent step in case of scenarios like losing your watch, transitioning to a new phone, or requiring a watch reset. There are various reasons for resetting a watch, including the intention of discarding it while safeguarding your personal data, or when the device is encountering operational issues and a fresh start could potentially address them. Here's how you can proceed with resetting your Galaxy Watch 4:
Access the settings on your Galaxy Watch 4 by swiping downwards on the watch display and tapping the gear icon (⚙️).
Scroll down and select "Account and backup."
Choose "Reset."
Carefully read the provided disclaimer to fully understand the implications of the reset. If you're comfortable proceeding, tap on "Reset."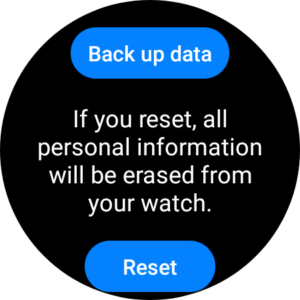 Your watch will initiate the procedure of erasing all your data from the device and reverting all settings to their original state, resembling how they were when you initially unboxed it. If you intend to retain this watch and wish to reinstate your information, follow the previously mentioned steps to restore the data after you've paired it with your phone.