Whatsapp now lets you share HD images and videos.
August 20, 2023
Whatsapp now lets you share HD images and videos. WhatsApp is currently in the process of testing a new feature. This allows users to share photos and videos in high resolution. In this feature, users will get the option to choose the quality of the image they send. HD video sharing is coming in the future. To access this capability, users can download the latest WhatsApp APK.
Download Google Pixel 8 Wallpapers on your device
Recently, WhatsApp incorporated functionality that permits the sharing of high-definition (HD) photos within the messaging platform. Mark Zuckerberg, CEO of Meta has revealed this in a Facebook post.
Many Android users were unhappy with the heavy compression of images sent through WhatsApp. Many individuals had even resorted to sending images as document attachments to maintain image quality. The introduction of the HD option addresses this concern.
How to share HD images and videos in Whatsapp
Users must update their WhatsApp application to the most recent beta version to get this feature. After doing so, a fresh "HD" button will become visible at the top of the photo-sharing interface.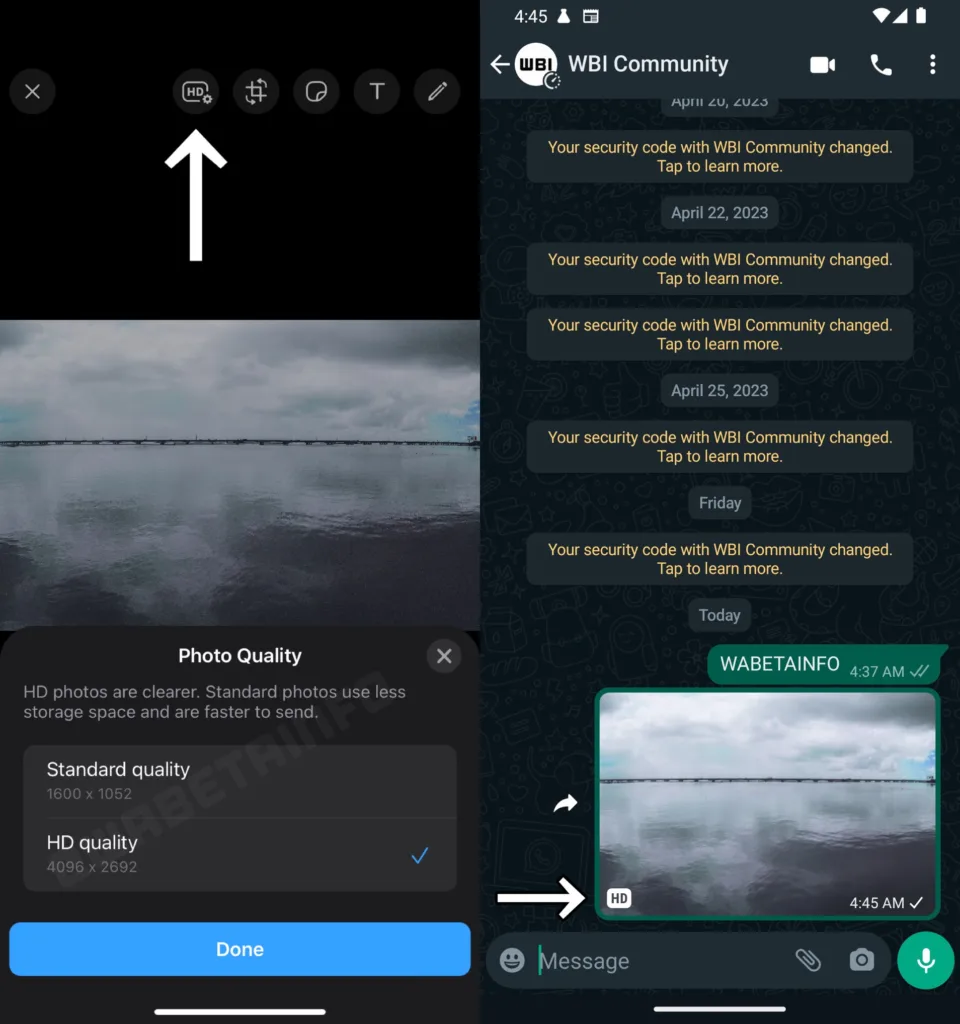 Once you tap the "HD" button a dialog box will appear, offering users the choice to select the photo quality. The default setting is "Standard Quality," designed to facilitate rapid and reliable photo sharing. However, users are now provided with the option to opt for "HD Quality," which preserves the high-definition rendition of the photograph.
Upon sending an HD photo, the recipient will observe an "HD" label in the lower-left corner of the image, signifying that a superior-quality image has been shared. Importantly, all images exchanged through WhatsApp are safeguarded by the app's robust end-to-end encryption.
WhatsApp has also taken into consideration users with limited bandwidth connectivity. If an individual receives a photo under such circumstances, they have the flexibility to make a per-photo decision about sticking with the standard version or upgrading it to HD quality.
To make use of this feature, you can either download WhatsApp Messenger version 2.23.17.17 beta or a later version from the provided link, or you can choose to enroll in the beta program using the link provided below.
How to Download Latest Whatsapp Apk
The simplest method is to enroll in the beta program and subsequently download the updated version directly from the Play Store. In case the beta program has reached its capacity, you also have the option to download the APK using the link provided.
WhatsApp beta downloads:
The easiest way is to enroll in the beta program and then download the new update via Play Store. If the beta is full, download the APK below.
APK Download
This is the universal APK that works on arm64-v8a, armeabi-v7a, x86, x86_64 devices.
WhatsApp Messenger 2.23.17.17 beta (universal)
GCAM 8.9 APK Download from June 2023 Pixel Feature Drop [Google Camera 8.9 MOD APK]