One UI 5 Update is finally rolling out for Samsung Galaxy Watch 4
September 6, 2023
One UI 5 Update is finally rolling out for Samsung Galaxy Watch 4. Last week, Samsung introduced Wear OS 4 for the Galaxy Watch 5 series. Now, the stable One UI 5 Watch OS update is finally coming to the Galaxy Watch 4 (BT) (LTE) (Classic). To get it, simply open the Galaxy Wearable app on your phone and download the latest software update.
How to Improve Smartwatch Battery Life
In addition, Samsung released an article titled "Samsung Brings the Latest Galaxy Z Fold5, Z Flip5, Tab S9 Series, and Watch6 Series Experiences to Previous Devices." As the blog post suggests, the new Watch 6 features have been incorporated into the One UI 5 Watch update.
The stable version is currently available in the United States for Galaxy Watch 4 users. This is only for the people who has enrolled in the beta program. It comes with build number HWH3 and has a size of approximately 2 GB. Non-beta users will also receive this update later in the month. The update will be there for countries like Canada, India, South Africa, Europe, and Asia.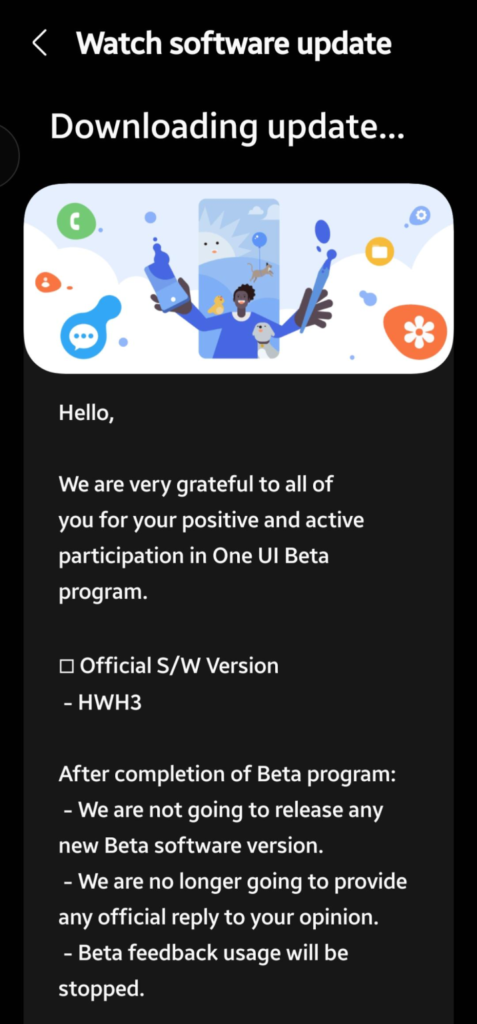 New Features in the One UI 5 Update
Samsung unveiled the "One UI 5 Watch" OS update through a beta program for both the Galaxy Watch 4 and Watch 5 series. This update is rooted in Android 13 and is constructed on top of Google's Wear OS 4.0.
It places a strong emphasis on three essential aspects: improving sleep management, enhancing fitness capabilities, and bolstering user safety measures.
Among the most highly anticipated additions is the Backup and Restore functionality integrated into this fresh firmware. Additionally, we can look forward to the new Watch Face Studio, a collaborative effort between Google and Samsung as part of Wear OS 4, which will introduce innovative ways to craft unique Watch Faces. You can find a comprehensive list of changes in the complete changelog below.
Top Features of One UI 5 Update for Samsung Galaxy Watch 4
One UI 5 Update Full Change log
The latest One UI 5 Watch OS is now here, and it's built on Android 13. Interestingly, it makes a leap from Android 11 to 13, skipping version 12. In upcoming updates, you can also expect to see features from Google Wear OS 4 integrated into it.
Watch faces and tiles:
Adding watch faces and tiles has been made simpler with a new vertical layout that helps you discover the ones that suit your style.
The Buds controller tile has been improved, allowing you to toggle 360 audio on and off if your earbuds support it.
There's now a convenient Timer tile for quick access to setting timers without opening a separate app.
You can set your watch face to cycle through pictures from an album or story you select, providing variety each time you turn on the watch screen.
Samsung Health:
Samsung Health now automatically detects and records cycling workouts, even offering the option to map your cycling routes automatically.
During running workouts, your watch can provide personalized heart rate guidance to help you manage your exercise intensity.
Backup and restore:
Your watch data is periodically backed up to your phone when connected, and you can also save backups to Samsung Cloud. The Smart Switch app on your phone needs to be up to date for this feature.
Control your phone:
You have more control over calls directly from your watch, including adjusting call volume, muting sound, and using the keypad.
Additional changes:
You can dictate text using the Home button with Samsung Keyboard.
Multiple timers can run simultaneously, with support for up to 20 timers.
In emergency situations, a button for accessing your medical information will appear when a hard fall is detected or when you press the Home button five times for the Emergency SOS feature.
The Device Care feature helps you monitor and optimize your watch's battery, storage, and memory.
Universal gestures enable you to control your watch without touching the screen or pressing buttons, with various actions assignable to gestures like wrist shaking or finger pinching.
You can now organize your apps into folders for better organization and quicker access.
Software update information:
The update size is 1.7 GB, and it includes a security patch dated September 1, 2023.
To download the One UI 5 Watch update for your Galaxy Watch 4, you can follow the steps through the Galaxy Wearable app or access it directly on your watch through the settings menu.
How to download the update.
You can now get the One UI Watch 5.0 firmware update for your Galaxy Watch 4 (Bluetooth) (LTE) (Classic) through the stable channel. Here's how you can do it:
Using your phone:
Connect your watch to your phone using Bluetooth.
Enable WiFi on your watch and connect it to a WiFi network.
Open the Galaxy Wearable app on your phone.
Go to Watch settings and select Watch software update.
Download the OTA updates from there.
Alternatively, directly on your watch:
Turn on WiFi on your watch and connect to a WiFi network for faster downloads.
Go to settings, then system updates, and choose to download OTA updates to check for any available updates.
This way, you can easily get the latest firmware update for your Galaxy Watch 4.